In settings, you can manage your personal account preferences, such as your language, default home page, and CRM communication settings. These settings will only affect your user.
For other personal settings, learn how to customize your CRM email signature.
To navigate to your account preferences, click your profile picture in the top right corner, then click Profile & Preferences. This will take you to the General section of account settings.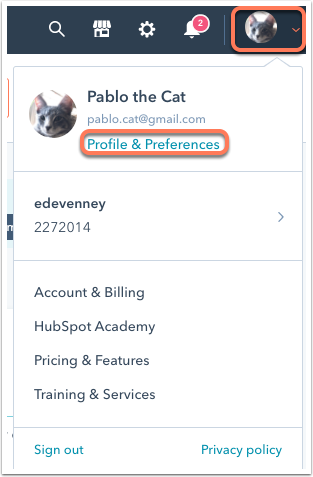 Global
Manage the settings that apply to your user across all your accounts.
Profile image and user name
The profile image, first name, and last name associated with a HubSpot user can only be changed by the user themselves. Users cannot make edits to other users' names, even if they have the Add and edit users permission.
If you're looking to update your user email address, check out HubSpot's guide on changing your email address.
To change your profile image and user name:
Click your current profile image, then select from the available options:

To upload a new image from your computer, select Upload image. Then select your image and use the slider to adjust the image size so that it fits in the circle. To save your changes, click Save.
To use a Gravatar photo, select Use Gravatar. If you don't have a Gravatar photo yet, you can click Set up Gravatar photo to add one. Learn more about Gravatar.
To remove the current avatar image, select Remove image.


Click the First name and Last name fields, then enter your name.
Click Save.
Language and date & number format
The language setting controls the language that displays in HubSpot's user interface. This setting will not adjust the language in the HubSpot mobile app. To change the mobile app language, adjust your iPhone or Android language settings.
Learn more about HubSpot's language offerings.
To change the language and number format that displays in HubSpot:
Click the Language dropdown menu and select a language. Switching your language will automatically adjust your Date & number format.
To change the date and number format, click the Date & number format dropdown menu, then select a region.


Phone number
To set the phone number that's used for workflow SMS notifications, security events, and owner property values, enter a phone number into the phone number field, then click Save.
Default Home Page
Customize the sprocket icon sprocket in the top left corner of your account to navigate to a specific area of HubSpot. This will also set the page that loads when you log in to the account. Default home pages are set per user per account, so you can customize your home page in each account that you're a user in without affecting other users.
To set your default home page, click the Default Home Page dropdown menu, then select a product area. Your changes will automatically save, but may take a couple minutes to take effect.